Located just 5 kilometers from the center of Heraklio, the palace of Knossos is the most significant point of attraction for tourists.  It has an area of 20,000 square meters, which are surrounded by mazes of magnificent buildings, royal palaces, decorated with multicolored frescoes with themes out of the life of the palace such as bull fights, religious ceremonies etc. The Minoan civilization deservedly evokes every visitor's admiration: painting, architecture, miniature art, ceramics, theatre, commerce with Libya and Egypt, the games, the coins which are perhaps even the most ancient in the world. 
Historical Museum of Crete

It was established in 1953 on the location of an older manor owned by the Philanthropic Foundations of A. and Mr. Kalokerinos. In 1870 it was characterized as a Historical Monument; it includes exhibits of the Byzantine Middle Ages era, Historical, Folklore Collection.
Some of its exhibits are: Gold Byzantine Coin, Goth Head of Christ, Byzantine earring etc. Its present day from (19 rooms, 2 courtyards, a library etc.) is a combination of neoclassical and contemporary architecture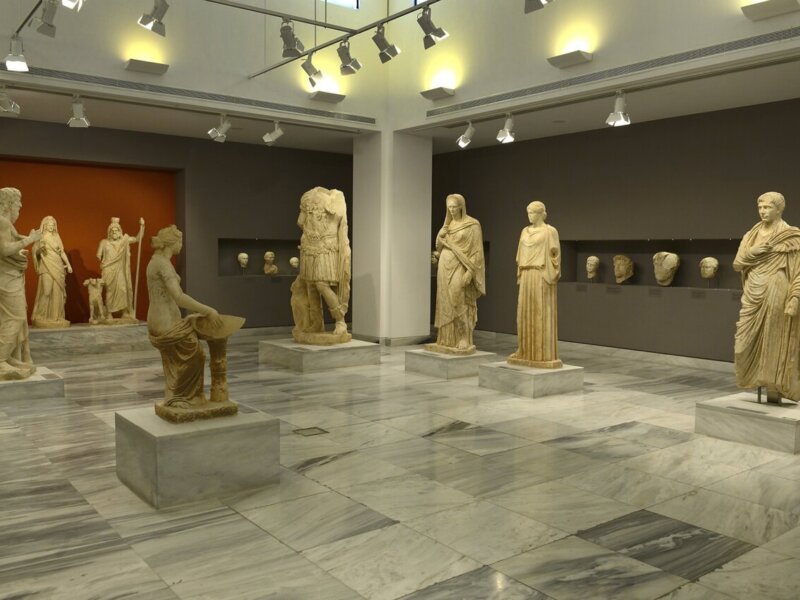 It is the par excellence Museum of Minoan Civilization. It house precious treasures upt to 1937. In 1951 the works began for the re-exhibition and presentation of the findings by professor N. Platonas and in 1952 invaluable objects were exhibited.
The museum has 20 rooms. Some of the most important exhibits are: Discus of Faistos, Frescoes of bull fighting, Copper statuettes, Statue of Aphrodite . The exhibits are in time sequence beginning from the Neolithic up to and including the Roman Period (4 th century).
Natural History Museum of Crete
The new exhibit area of the Museum of Natural History in Crete is housed in a landmark industrial building and has a surface area of 6,000 square meters. At the center of the Museum the ecosystems of the eastern Mediterranean are presented in full size, with the primary reference point being Crete.
Also in operation are innovative units such as the Live Museum with a multitude of impressive live animals, the Planetarium , the Seismic Bank and the Research Area ,a space of 250 square meters, with many interactive activities for exploring nature.
The admirable work of human ingenuity was built by the Venetians in the 3rd decade of the 16th century.It had been named "Rocca a Mare" or "Castello a Mare" but the name "Koules" prevailed, which was given by the Turks during the period of Turkish domination.
It is located on the northern tip of a series o rocks and reefs and was guarding the city from invaders. Built of huge boulders it is comprised of two levels and is divided into 26 compartments by thick walls